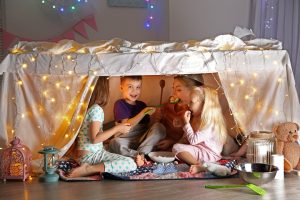 I never thought I would be writing a blog about activities to do with kids while in quarantine but here I'am. I know I'm already going crazy trying to find fun activities for my kids to do, all they want to do is fight with each other. And this rainy weather is not helping! If the sun was at least shining I could take them outside to play, but no luck yet with any sun this way. So here are some activities to try while being stuck inside your house with your kids during this crazy time.
1. Make a Home Movie Theater!
Dim the lights and pop some popcorn! And if you have Disney Plus or Netflix that makes it even easier!
2. Build a Fort!
Such a classic idea but kids love it! Use all the blankets and pillows in the house and make a giant fort for the kids to play in all day.
3. Bake/Cook!
I know it can get messy letting kids help with cooking and baking but they love helping. Plus your teaching them life skills, so relax let them help even if it does make a mess. Make something simple like mac & cheese or brownies.
4. Make Sock Puppets!
Grab some old socks and make some fun puppets to put on a little show!
5. Have an Indoor Treasure Hunt!
Hide some toys or candy and make a map with clues for the kids to follow to find the treasure.
6. Indoor Bowling!
Make a indoor bowling set with water bottles and just use any ball you have around the house. You can even let them color or decorate the pins (water bottles).
7. Color/Craft Time!
Get creative get out your craft supplies and do some silly art! Or even have the kids make their own story or picture book. Pinterest has a million and one ideas!
8. Puzzles/Board Games!
Get out the board games and puzzles to pass some time! You could even make your own Bingo boards!
9. Make Your Own Obstacle Course!
Of course don't make it too hard, let the kids help make it! You can literally use anything pillows, jump ropes, blocks, tape to make lines, balls, etc. I know my kids love doing "challenges" to see who can make it through faster!
10. Water Bin!
My boys always love this! Go ahead and lay down some towels because water gets every where! You can use a large mixing bowl or tupperware container and fill it with water, just put it on the floor with towels under it of course! Let the kids pick out some toys or if you have water beads those are great too! You can even add in some science education and see what sinks and floats!
11. Make Your Own Play-Dough Or Slime!
Here is a easy play-dough recipe: https://stayathomeeducator.com/absolutely-perfect-no-cook-scented-play-dough-recipe-without-cream-tartar/
Here is an easy slime recipe without borax: https://www.thekitchn.com/how-to-make-3-ingredient-slime-without-borax-245904