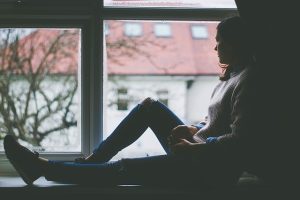 Jewel was just 16 years old when I met her. I was a school guidance counselor looking to change the world in my little neck of the woods. She was a high school sophomore, taking honors classes, tutoring others who weren't, and learning to drive with the assistance of a licensed adult. This young lady had everything going for her. Except, of course, until she found out she was pregnant.
She came into my office between classes one day and asked if I had a few minutes to talk. She shared that after only a few times of intimacy with her young boyfriend, she became pregnant. This was not something they had planned but he made his intentions clear when he ended the relationship immediately after hearing the news. Not sure what to do next, she told her mom about the pregnancy.
Jewel was devastated when her mom insisted that she abort. For weeks leading up to the abortion, she stopped by my office at least once a day in a desperate attempt to change the circumstances. She knew her time was running out and we only had a small window in which to talk with her mother about other options. We spent time with the school nurse, enlisted the help of the local pregnancy center, and even invited mom to a sit-down so that we could talk rationally about the girl's choices. By now, she was halfway into her pregnancy at 20 weeks along.
When the Monday after her appointment rolled around and Jewel was absent from school, I knew exactly what had happened. She returned to my office later in the week to describe in detail how she was induced that Friday morning at the abortion clinic. She literally endured several hours of labor for a child that would ultimately be terminated, and for a mother who refused any other options. Upon leaving later that afternoon, she was given some pain medication and a few pills to "help the nerves" in the days to come. No follow up appointment. No assurance that her life would get back to what she knew as normal. No hope for this wounded girl. She left simply with a feeling in her gut that this wasn't what she was supposed to do.
Jewel is joined by millions of other women each year who face an unplanned pregnancy. Many are upset, disappointed and even scared when they find out. Many wish there circumstances were different while some women are thrilled with the news. In whatever situation, every woman facing an unplanned pregnancy has this in common: She has a choice!
At the New Life Clinic, we educate women (and men) facing pregnancies and offer a listening ear, along with the tools and resources needed to make a choice for they're unplanned pregnancy that they can live with. I sometimes wonder how her story might have changed if Jewel had been able to utilize the services at NLC.
What about you? Are you or someone you know facing an unplanned pregnancy? A pregnancy unplanned does not have to become a crisis. Don't try to go it alone. Let the staff and volunteers at the New Life Clinic help you during this time by answering questions, providing medical, accurate information, and walking through this major life event with you.