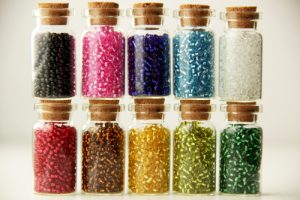 Sensory bottles are also known as calm down bottles! When a sensory bottle has items such as glitter, legos, or beads in it that move slowly, children are often mesmerized by watching them. They are an effective and easy way to help children focus on deep breaths and relaxing after a temper tantrum or an upsetting event. It gives the child something to focus on to help them calm down.
Sensory bottles are very inexpensive to make and don't take much of your time! When making sensory bottles, children can improve their fine motor skills by grasping and picking up the small items and putting them into the bottle. Sensory bottles are also a fun way to introduce math and science to children at an early age. They can practice measuring supplies and objects to go into the bottle as well as guessing how much supplies they might need for their bottle.
Here is a simple DIY sensory bottle to try with your kids!
Things you will need:
Clear glue
Empty plastic water bottle
Glitter
Small objects (googly eyes, legos, beads, etc.)
Food coloring
Super glue
Directions:
Add half of a bottle of clear glue. (the more glue you add the slower the objects will move)
Then add in warm water, enough to almost fill the bottle. (Save room for shaking and movement in the bottle)
Add a couple drops of food coloring and glitter.
Finally add in any fun small objects of your choice. Put on the lid and tightly secure it.
If you have a younger child or one that will open it, I suggest super gluing the lid closed!
NOW SHAKE THE BOTTLE!!