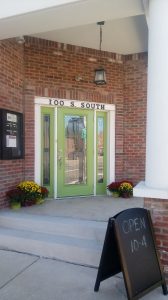 When considering making an appointment at New Life Clinic, it can be scary if you don't know what to expect. Many fear they will be judged for their choices or appearance when they walk in. Or some worry that their personal beliefs or privacy will not be respected. At New Life Clinic, we take your confidentiality and privacy serious and want you to feel comfortable walking through our doors.

Pregnancy Testing
We provide free, lab-grade pregnancy tests that are 99.9% accurate for any woman who is wondering if she could be pregnant or would like a confirmation test after taking an at-home pregnancy test. You will meet with one of our trained staff members in one of the counseling rooms, who can help you determine what the next step in your pregnancy is. They will process the results of your test with you and ask you if you would like additional testing for STDs. They will get to know you, learn about your situation, and provide you with the education and resources you need. If your test is positive we can provide you with free prenatal vitamins and even get you scheduled for a free ultrasound.
Ultrasounds
For an ultrasound you would meet with our registered nurse, and if you would like you can choose to bring a support person with you. Our ultrasound room is private and has a screen in front of you so you can see everything for yourself. Our nurse can let you know important information about your pregnancy, such as whether or not the pregnancy is viable, the approximate gestational age of your pregnancy, the location of your pregnancy, and your estimated due date. For more information on ultrasounds and to schedule an appointment with us, give us a call.

Options Consultation
When it comes to unplanned pregnancies, it's normal to have lots of questions. We have trained staff who are available to discuss all of your pregnancy options with you and answer all of your questions. New Life Clinic is a judgment free zone, and we will never discriminate against anyone based on their personal beliefs or opinions. Our goal is to offer you accurate, up-to-date medical information and empower you to make an informed decision regarding you and your pregnancy.
Additional Resources
Before your appointment is over, if there are any additional resources or services you'd like to learn more about, our staff is here to discuss those with you. New Life Clinic offers a wide range of pregnancy services, from adoption information, support for fathers, proof of pregnancy verification, parenting classes, material support for you and baby, community referrals, and much more.
Schedule Your Appointment Today
It is our hope that this has helped you know what our services are and what you can expect when you make an appointment at our clinic. We are committed to providing you with the care and support you need to navigate your pregnancy, whether it is planned or unplanned. All of our services are 100% free and confidential. To schedule an appointment, give us a call or visit us online to schedule your free appointment today.